Well guys, its finally ready; this Monday, 3rd of September, the doors of "Lost Paradise of Dilmun Waterpark" will open its doors to the public, press, and everyone else interested in having a good bit of aqua-fun. The prices are supposedly kept under wraps, but as far as my insider sources tell me, tickets will be BD8 for children, and BD12 for adults.


The timing of the park opening is a bit off though, I guess. Schools in Bahrain start on the 4th, the day right after the park opens. Also, the opening coincides with the end of the summer period; wouldn't it have made more sense to open during the hottest period of the year? Well, I guess delays in completing huge projects such as this (almost $50 million) are inevitable.
Seriously though, I don't think this park was meant for the locals; if the prices are actually released as my inside sources state (ie, BD8 and BD12), then the average Bahraini won't exactly be able to afford it. I don't think your average BD400 bread-earner is willing to pay a good 50 or 60 dinars for a single day of water soaked entertainment for him and his family. I mean, I know many families who actually all get together to split the BD40 or BD50 it costs to rent out a swimming pool for a day.
Anyway, no complaints, i'm guessing the investors are looking for a good return on their investment, and charging any less isn't really going to cut it for them. Also, keeping the prices high ensures the quality of visitors doesn't drop below a certain level (ie, the level of people that manage to break and ruin everything because they find it '
funny
').
The report states the park can handle upto 5,000 visitors a day (although I doubt it will ever reach that number), and the park is expected to bring in around 200,000 visitors a year. Doing a little bit of calculation, this means the park will be working at approximately 10% of its full capacity (ability to accomodate 1.8 million visitors a year, but only expected to bring in 200,000). Assuming all of these visitors are adults, this will bring in a good BD2.4 million in ticket income, which means the park needs to operate at this level for almost 8 years to re-coup its original cost, and this is without considering its day-to-day running expenses (salaries, maintenance, water costs, etc). I just wonder how good an investment this really is.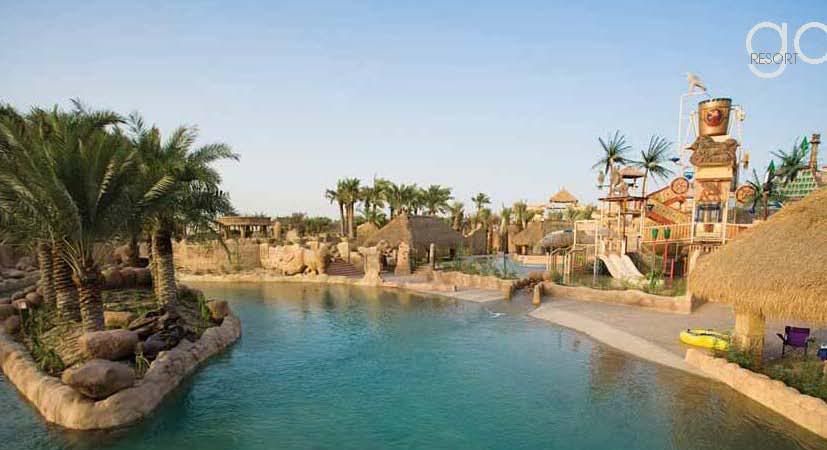 Anyway, I hope for the best; it has opened up the doors to another outlet for high-class entertainment in Bahrain. I really do feel bad for many of the locals, however, who know that such facilities exist yet find it very difficult to actually go out and spend a day or two of fun with their families; there isn't exactly a cheaper option available anywhere else (gone are the days of Qassari, Ain Athari, etc).
$50m water park to open
28 August 2007

THE $50 million (BD18.9m) Lost Paradise of Dilmun Water Park will open to the public on Monday, officials confirmed yesterday.Park sales and marketing director Mohammed Ali said the facility, believed to be the biggest of its kind in the Middle East, would be unveiled to the public following an exclusive media launch the day before.

Press from across the Gulf have been invited to the day-long event, which will include an opening ceremony and a tour of the park.

Further details, including ticket prices and timings, are being kept secret until a Press conference on Sunday.

The water park, which features some of the world's largest aquatic high-tech rides, is one of the main parts of the mixed-use $1 billion (BD378m) Al Areen Development Project.

It aims to provide a modern, hi-tech, family recreation facility that will also recapture the ancient history of Bahrain by integrating the Dilmun period into the park's theme.

Located near the Bahrain International Circuit, the park, which spans 77,000sqm, will be able to handle up to 5,000 guests per day.

The attraction is expected to pull in 200,000 visitors a year and will have about 20,000sqm for future expansion and car parking. It will help to create around 150 new jobs.

The park will include slides and pools, a family raft ride, a wave pool, a spa pool, suq, restaurants and shaded parking for up to 650 vehicles.

Fully qualified lifeguards will be based at every attraction and the park will also have a staffed first aid station as well as male and female prayer rooms.

It has been designed and will be operated by Malaysian-based company Sim Leisure Consultants.

Among its many features will be the Dilmun Artesian Spring, recreating the idea of Bahrain's ancient springs and replicas of Dilmun ruins will be set up with thatched shaded lounging areas.

Article