is·land (ī'lənd)
n. (Abbr. Isl. or Is. or I.) A land mass, especially one smaller than a continent, entirely surrounded by water.
Technically, living on an island should mean a large availability of beaches, and ease of accessability to them. Unfortunately, living on this pretty island called Bahrain, we seem to be faced with a lack of water-facing properties. If they're not commercial properties held by some sort of club, hotel or resort, they're usually in the hands of private owners.
Anyhow, in order to soak up the rays of the sun while lying down on the beach, one of your few options is to head over to Hawar islands. Now, although these have been open to the public for a number of years, I really haven't bothered going. Truthfully, I don't find the prospect of driving half an hour to get to a pier, then waiting another two hours on a ferry-ride to finally reach a beach an attractive idea; for me, a 15 minute drive to the airport and a 45 minute flight to Dubai makes a lot more sense.
Besides the point; my wife managed to convince me to finally go to Hawar for a day, and considering I needed a break from the day to day stress, I respectfully agreed. I wasn't expecting much, to tell you the truth, so here's a quick look at how it went:
After driving really fast down the highway and the tiny roads of Askar and Jaw to reach the pier JUST in time for the 1:00pm deadline (ie, when the boat was supposed to leave), we realized half the other passengers were still not there, and the boat wasn't going to leave for another 45 minutes. Blah. Anyway, wasn't too big a deal; this is Bahrain after all. The boat ride was smooth, and in a little under 2 hours, we managed to arrive on the shores of Hawar. Another 10 minute bus-ride and we were at the hotel.
The weather seemed a little bit better than back on the mainland, but obviously the lack of buildings, roads, cars etc dictated that it should. The view was reasonable; the hotel was beach facing, obviously, and had its own little bay. Swimming in this bay area was reasonable if you manage to ignore the millions of little shells and stones that make it feel like you're walking on a bed of nails. Swimming anywhere else outside this area feels like you're walking on a bed of mud filled with millions of little shells. Actually, you technically
are
walking on a bed of mud and shells. Back to the bay area it is.
Something funny I noticed; seems the Bahrain flag in the photo above hasn't been changed since Bahrain actually managed to win the court case and recieve jurisdiction of Hawar islands six years ago:
In general, the view was reasonable, although nothing really special. The hotel had the usual watersport facilities; jetskiing, paddle boats, kayaks, etc. I had also actually heard that there was a "
waterpark
" here somewhere; it didn't take long to find it:
Yup, it was just ONE water slide, that was it. Lol. So much for water
PARK
. There were also the swimming pool facilities, which although not very big, were actually fun. Overall, the hotel doesn't occupy a huge area, but hey, if you're looking for a beach in Bahrain, I guess you have to make do with this. Oh, and there's also a nice big deserted boat in the sea for decoration. Nice.
I've been told the island is actually the habitat for a lot of birds. I mostly saw ducks:
Since the hotel faces the west, you're greeted with a nice view at sunset:
Not much to do at night, however. Besides more swimming in the pool or the beach, there's an acceptable buffet dinner in the hotel restaurant. We were also given a treat by the Filipino hotel singer, singing the Titanic theme tune, Gypsy Kings, a number of Bollywood hits and even Kadhem Al Saher (yes, this guy was multi-talented and sang in 4 different languages. He could also shake his hips in a manner that put Shakira to shame. Pretty impressive)
Only real annoyance was a bunch of drunk kids in chalet 117 right next to the hotel. If you're reading this, you know who you are! Now, the first time we passed by chalet 117 at at night, we noticed an open door with "Dagni Dagni" blasting (lets call it Arabic tribal music). As two girls walked on the beach near by the chalet, this guy stands by the door, butt facing outwards, and starts jiggling his big butt in a big circle in tune to the music. Now this guy is reasonably "big-boned", wearing just a pair of shorts, seems sort of drunk, and along with the ridiculous music makes quite a fool of himself. I wonder if he actually thinks the girls are supposed to find this (which I only assume is what he considers a mating call) attractive and run to his arms (butt?).
Anyway, a quick walk along the beach and back revealed that this wasn't a single incident. This dude kept doing this over and over, with the same ridiculous song on repeat. Next day in the morning, after passing by the chalet again, THE SAME BLOODY MUSIC WAS STILL ON. And guess what, the same guy stood by the door, as jiggling in a huge circle as any sort of female passed by. I was determined to get a photo: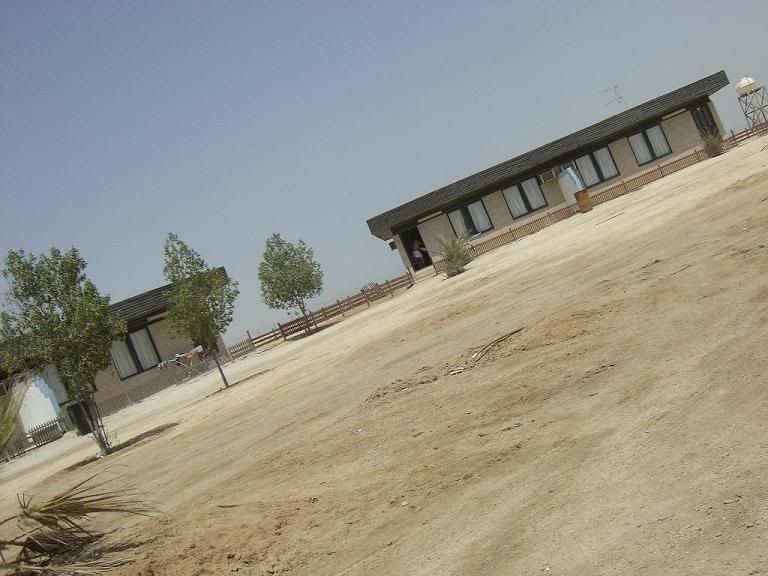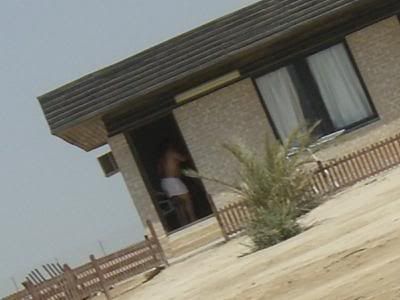 Juicy.
Now that I think about it, I should have actually tried taking a video, because this photo really does not do justice to the amount of embarrasment this guy will face after he sobers up and realizes his butt is all over the internet.
Anyhow, a quick breakfast, a swim in the pool and then it was time to head back to the mainland; overall, it wasn't really too bad, but it wasn't great either. I saw a bunch of large groups of people who have managed to come together, and I guess that would make more sense for here.
Final note; if you want to visit Hawar, come in a big group, and you'll probably have a lot of fun. Otherwise, if you're looking for a nice beach to chill out on for a day or so, it probably makes more sense to get a nice little room at Novotel or so, fly over to Dubai, or enjoy a beautiful beachless summer :)