So i'm slumped infront of the couch watching TV late last night, when I hear a terrifying scream coming from the kitchen; I get up to see what was going on, and it turns out my wife had spotted an insect that managed to help her scream her lungs out.

Now i'll have to say, my wife is pretty brave in general, but when it comes to little bugs and creepy-crawlies (and mice), nothing can make her forget everything she's doing and run screaming.

So what was this little bug? It was a worm-like creature we traditionally call ام اربعة و اربعين, literally translating into "the mother of forty-four" (as in relation to the number of legs it has). Now me being the man of the house, went ahead to kill it as I do all bugs that manage to appear out of nowhere, when my wife started screaming again "DOOONNNNTTT! THAT THING CAN KILL YOUUUUU!"

I stopped. Dammit. I do remember being told as a child that these "mothers of forty-four" are actually pretty poisonous, and to be careful of them, but as I grew older I sort of dismissed that as some sort of urban legend. Were they poisonous, though?

So here I am, a little under a meter away from the killer mother; I stare at her, she stares me back. Well, she doesn't actually, she just sits there, wiggles once every few seconds, and I wonder if the next few minutes will be the last moments of my life, in combat with the little beast.

I think quickly, and notice a huge glass in the cupboard right behind killer momma. I make a quick move for it; in the background, the chilling screams coming from my wife fill the room. As I jump towards the glass, the mother wriggles more and prepares to stand, while suddely everything seems to run in slow motion; the colors fade into black and white as I grab the glass, and balance myself to avoid being poisoned by the venomous monster. Enter background music; heavy metal. She doesn't just sit there, though, she lifts herself up on half of her legs, stands up, about to attack; we were in full combat mode now, it was just me and her, looking each other eye to eye, waiting for the first person to make a move. With a quick move of dexterity and skill I slide forward and land the glass on top of her, turn it upside down, scooping her up as she squirms trying to escape the glass prison while spewing her toxic venom everywhere. I grab the nearest tissue box and cover the top of the glass.

Phew. She's trapped now. Everything turns from black and white into color again as I realize its finally safe, and the heavy metal background music fades away. Little did I realize this whole process took a little under 5 seconds; felt like an hour. How time freezes when you're so close to losing your life.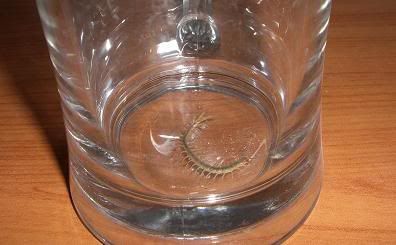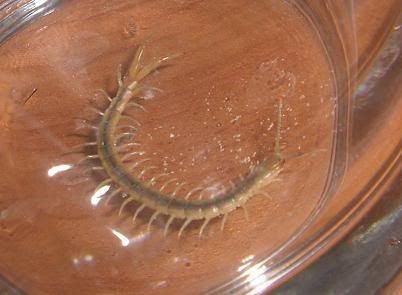 Anyhow, I manage to take the offender out to the garden, and Pif-Paf the hell out of her. She squirms and wriggles, as if trying to resist, clinging on to her soul, but alas, she finally stopped moving.

Mission Over. Finally.

Anyway, doing a little research afterwards leads me to the conclusion that the little monster was, infact, a centipede. Only one case of death has ever been recorded, and that was by a large centipede biting a young child; otherwise, their bites can result in a reasonably painful rash.

Dammit. So much for my near-death experience.