I always knew life for the average Bahraini was getting more difficult by the day. In between the low salaries compared to the rest of the region, the ridiculously high cost of living, more loans and credit cards than you can shake a stick at, continuous promises of help by the government that are never fulfilled, silly congestion and traffic, lack of reasonable jobs, and a parliment that only helps to increase our rage and anger rather than help solve any of our problems, it's no wonder Bahrainis go crazy.

My theory has been that more and more Bahrainis go crazy by the day, but now I finally have proof! I've been wanting to post this for a while but never got a chance to; this is a photo of the old Bahrain psychatric hospital, ie, the mental hospital, the nutcase place, مستشفى المجانين, the place crazy people are taken to.


See? A nice, small mental hospital, fit for a small country, made up of one and a half floors covering a small area. Reasonable, no?
Anyway, there's recently been an extension to the mental hospital, which only means we're getting more nutcases. But wait, take a look at the size of this thing: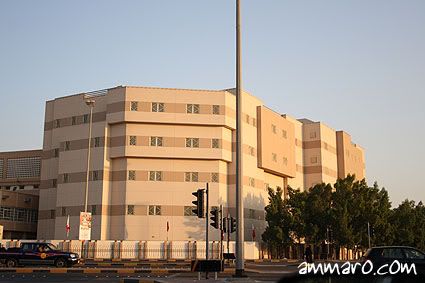 5 huge floors, each covering 3 or 4 times land space compared to the old hospital. Ooh err. What does that tell you about the number of people going crazy in this country?
Poor Bahrainis!