So our people are standing on top of buildings and stuff for sightings of the moon, to confirm whether or not the Holy month of Ramadhan is finally upon us...


Moon-Sighting Panel Meets

MANAMA: A Ramadan moon-sighting committe will meet this evening at the Justice & Islamic Ministry to receive eyewitnesses' testimonies, from Bahrain and abroad, confirming the advent of the fasting month.
And so we're waiting for the sightings to see whether Ramadan is today, tommorow, or the regular argument we go through every year; the Sunni people decide it is today, but the Shiia decide its tommorow, and so on. Of course, all of this is based on "
testimonies
" of people who probably sit at the top of their house, mosque, or maybe even get clearance to go to the top of Al Moayyed tower (hopefully shifting to Bahrain Financial Harbour next year) to get a really close good look at the sky and see if the moon has, in fact, appeared.
Pardon me for being a little rude but this is all a bunch of crap. For one, not everyone has the same eyesight; some have stronger than others. Secondly, a sky can be cloudy, or unclear with haze, hiding the moon even if it has actually appeared. I can go on and on about how this method is subjective depending on the person, where he is located, etc, and thus brings rise to the whole complication between Sinna and Shiaa about which day to fast because the Sunni guy saw it but the Shiaa guy didn't, which day Eid is,and so on. This way of finding whether or not the moon exists is pure rubbish, in this day and age.
Why do I say this? Well, technology has given people the ability to literary stare into space with telescopes and satellites, using the latest technology to find the moon even through the murkiest sky. Not only that, but companies like NASA have the means to actually predict when the moon will appear way before it actually does (and this isn't restricted to huge organizations like NASA, but smaller astronomy centers now have the means to do this as well).
So you would think, ok, no problem, we're not using that because we don't have access to that type of equipment.
Erm... First of all, this equipment is a lot easier to get nowadays, and doesn't cost too much (especially under a government budget, whether it is from Bahrain or Saudi Arabia or anyone else). But even with that argument, we still don't NEED to buy it. You see, the internet, that invention giving the whole world access to all sorts of information and data, can link us straight up to the NASA website, the Farmer's Almanac website, or any of the other hundereds of people who set up live-cam moon feeds through their own personal computer. The technology is out there, it's pretty much accurate (well, definately more accurate than the naked eye), and it's accessible to ANYONE.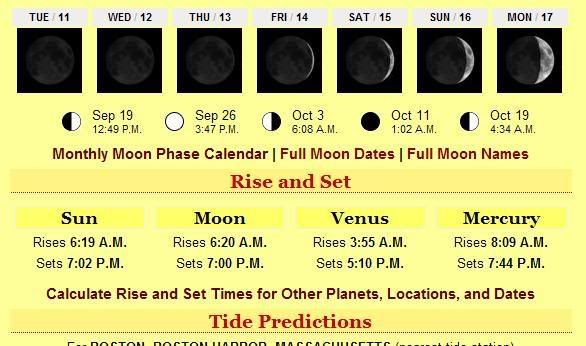 Does it still make sense that we're sitting on top of a rooftop squinting trying to see if the moon '
is
' actually there? Lets just wish that this year our Sunii and Shiia brothers celebrate the joys of Ramadhan and Eid together,
and blessed may this month be on all thee
.
و مبارك عليكم الشهر
:)