I really thought this was a joke when I first saw it, but no, this is a very real product.

Ever got into a small, closed room with someone whose just had lots of beans? Or eggs? Or anything that causes their body to release deadly poison gases into the surrounding atmosphere, choking you to death??

Well, fear not, environment lovers, for Garment Guard has actually come up with the perfect solution; Subtle Butt. It's a very simple product; a peel-off adhesive that can be attached to your underwear, composed of soft fabric with antimicrobial treatment.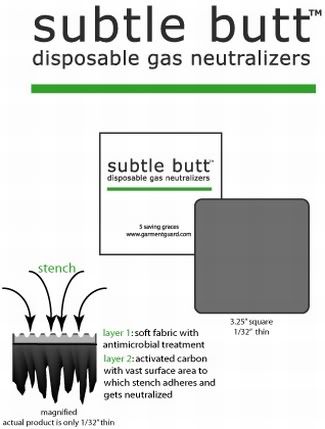 It basically sucks up the smell as you, ahem, relieve yourself, and ensures that the only thing released into the atmosphere is clean, non-smelly air. Also watch the video on their site for a more detailed explaination:
Subtle Butt
Makes the perfect present. The products people come up with, eh? Now all we need is a solution for the sound.