The people who write Bahraini newspapers are a funny little lot. Being a small country, there isn't always the greatest amount of newsworthy activity going on, so they try to take anything, and somehow make it sound important and hence turn it into news. Here's an example, two articles from the same newspaper today, one from a world event, and one from a local event:

WORLD NEWS - USA; big event, ie, newsworthy


Huge pileup closes California freeway
FRESNO, California (AP)

100 cars and trucks crash on Highway 99 killing two

More than 100 cars and trucks crashed on a fog-shrouded freeway, killing at least two people and injuring dozens more, the California Highway Patrol (CHP) said.

Eighteen big rigs were involved in the massive pileup on Highway 99 just south of Fresno as patches of dense fog obscured visibility on the heavily travelled roadway, CHP officials said. "It looked like something out of a movie, walking up and seeing all the cars mangled and crushed," CHP Officer Paul Solorzano Jr. said.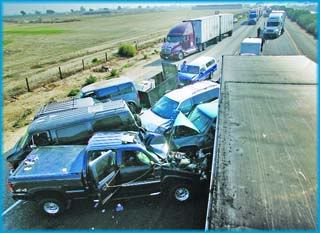 LOCAL NEWS - Bahrain;
hardly anything at all really, ie,
NOT newsworthy
3-car pile-up on Muharraq causeway
Monday, November 5, 2007

Morning traffic flowing from Muharraq along the old Muharraq Causeway to the Diplomatic Area signal was hit with a three-car pile up while the person who caused the accident escaped unhurt.

An eyewitness told the Tribune that a Bahraini lady in a maroon Nissan Sunny, was driving along the sea-side lane, when she decided to change course suddenly and recklessly drove her car to the extreme left.

As if this isn't enough embarrasment for the Bahraini media, they actually try to make the article sound interesting by completely exaggerating the size of the event. Here are a few direct quotes from the article:
"Realising the danger, the car in that lane, a green Mitsubishi Colt swerved and the driver panicked, resulting in her bonnet and engine chamber climbing on to the divider."
Wow. An event only rivaled by those of great Hollywood action movies.
"Since the events unfolded in a short time at peak hours of the morning, a Chrysler Neon LX, also driven by a Bahraini, crashed into the right side of the Colt. A third car, again a Nissan Sunny, driven by an American, which was directly behind the Chrysler crashed into the rear causing a three-car pile up."
Oh boy, what an action filled day! I can't handle this adrenaline rush!
"The accident, the Tribune found, resulted in a serpentine traffic snarl, since the road is the only connection from the Muharraq Souq and the airport road."
OH MY GOD! A REAL SERPENTINE TRAFFIC SNARL!!!!
"However, the accident resulted only in a few dents to the vehicles but no fatalities."
Only in a few dents
BUT
no fatalities? Like, REALLY? I hardly see how a few dents WOULD cause fatalities.
And there you go, Bahrain media at it's finest.