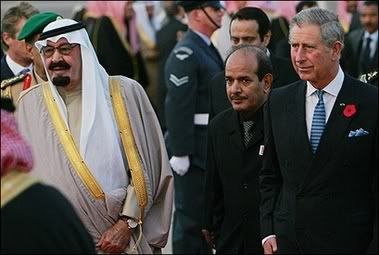 We have three large plasma TV's in the office. Don't let your mind wander; we actually use them for work, to keep updated with the latest news and happenings around the world, as part of keeping up with currency prices, interest rates, and so on.
Anyhow, here I am watching Saudi Arabia's King Abdulla visiting the Queen of England and other members of the British royal family, amongst an unbelievably lavish welcome. It brings up a few thoughts; stronger relations between England and Saudi, representing the Western and Arab world. After all, the last visit by a Saudi Monarch to the UK was almost 20 years ago.
Somehow, I feel happy to see King Abdulla meeting the Queen of England. I want to see more of this sort of warm, generous welcome to the ruler of a muslim country, and one of the most pronounced Arab states, at that.
A few things made this whole visit sort of unreal, funny, and a little sad, actually. If you thought the late King Fahad was the kind of person who knew how to live an extravagant life, get this: it took
6 planes
to transport King Abdulla and his party from Saudi to the UK. The amount of belongings brought along was so large, that actually unloading the King's luggage (including his entourage) took a little over
3 hours
. They also required
84 limousines
to drive into London. Mind you, the party was composed of almost 400 aides;
400!
Now
that
, my friends, is making an entrance.