Decided to do something different today; between the amount of work I have to do at the office, extra tasks that life decide to throw at you, and the regular headaches you get along the way, you start to get lazy. You start looking for more "relax" time, whatever you can get to brush off any excess fatigue clinging on to you from a tiring existence. Food also makes a great reward for all that hard work you've been doing, so the occasional drop by that fancy restaurant, or snacking on some fast food always feels good.

Doesn't have a great outcome on your abdomen though. Guess its time to start exercising again; after leaving work yesterday, I changed into a T-shirt, shorts and sneakers, and headed to find somewhere to walk. Not many choices, really, but I decided to go to the corniche between BFH and the Muharraq Bridge.

It's been a while since i've been here. I remember days when I used to pass by, probably a good ten or twelve years ago, sit by the sea as the breeze comes in, and admire the buildings in the Diplomatic Area. Most buildings in Bahrain weren't much higher than 2 or 3 floors, so the Diplomatic Area was a bit of a spectacle.


I guess I feel similarly now, as I walk towards the corniche. The buildings in the Diplomatic Area haven't gotten much higher, but a few hundred meters down, the WTC rises above with its twin 50-story towers and over-sized fans, while the Bahrain Financial Harbor gleams a tropical shade of emerald green. They totally overshadow the NBB Tower, which just a few years ago used to be the tallest building in Bahrain.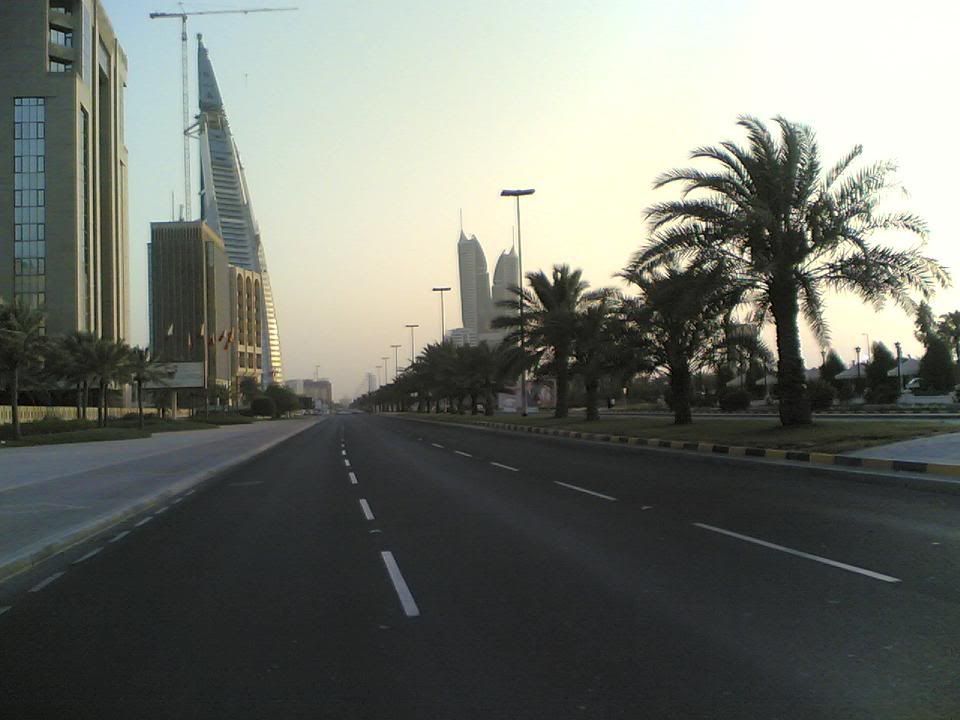 Walking here is pretty refreshing. The weather, although a little hot, was actually bearable due to a nice cool breeze coming in from the sea. I guess the fact that I managed to finally be around some greenery also cools the immediate atmosphere down; again, it has been a while walking around somewhere that hasn't been completely concretized (ie, all plants removed and replaced with concrete). It does feel fresh; the air feels cooler, the breeze crisp and clean.
The corniche is pretty lively; people of all nationalities here, some walking, some jogging, some just relaxing on the grass, having a picnic with the family. Some children are playing, a little beach ball bounces in between them, while others line up to run a race. It's busy, yet somehow quiet and serene.
Something that has been 'destroyed', however, is the sea. There's no more sea here. The construction for the Bahrain Bay and the rest of the BFH project is turning this corniche into another inland walkway. The breeze is still a sea breeze, since we haven't been pushed too far inland just yet, but the view isn't exactly great. Where there used to be a sea and a nice view, is now a bunch of rocks, landfills, and red and white tape with no-go signs.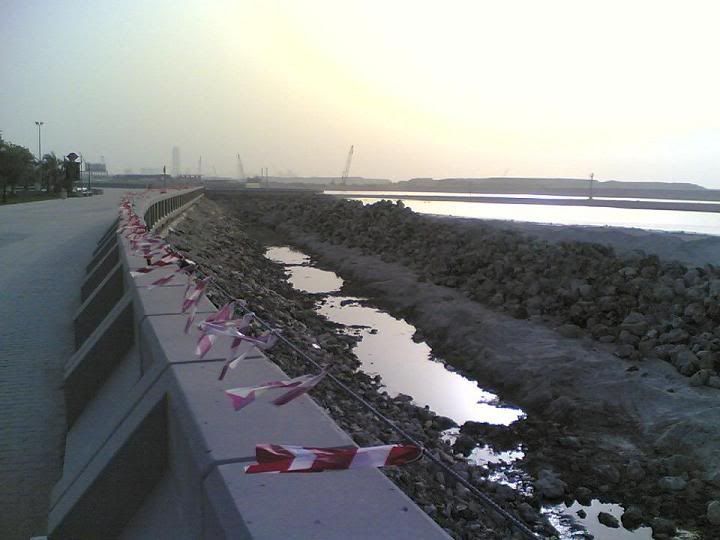 Well, at least we can still catch sight of the sea from here. Lucky us. Still, walking here, even though a partly damaged experience, is still pleasant and calming. The noise of traffic pile-ups and angry car-horns seem diminished, and the breeze manages to drown it out. From here, even the towering behemoths ahead, WTC and BFH, seem tranquil and quiet.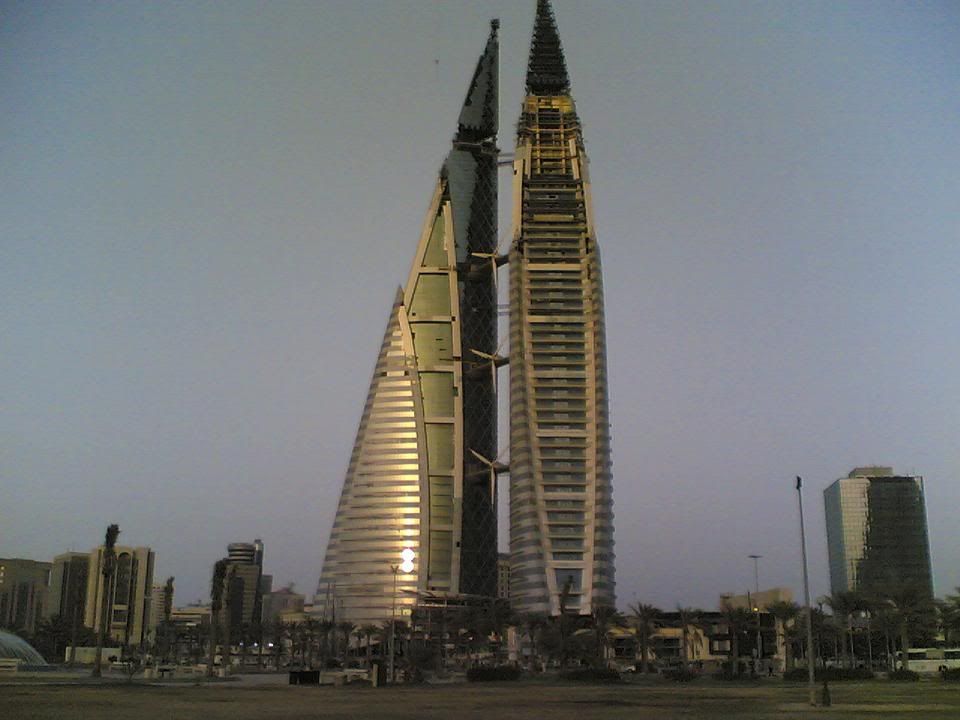 It wasn't a long walk; a good 45 minutes going and coming across the corniche, but it's good for the mind and soul, and takes you away from the hectic existence we have to go through day after day.
I'm definitely doing this on a regular basis; wanna join?