It's finally out! And yes, I was one of the first people waiting in line to get a chance to see it.

So how did it go? Well, if you're not already familiar with Transformers, its actually a great cartoon series from back in the 80's. Look it up. With the new movie out, at first I had doubts about how well it would live up to the memories I had from the cartoon, but after seeing the trailer I was pretty anxious to get out there and see it.

So now it's July 4th... Biggest movie night of the year; we reserved the tickets and got there an hour early, and the hall was already around 90% full. I saw people I haven't seen in the past 5 or 10 years there to watch the movie. It felt like old times, lol.

So anyway, lets take a quick look at who worked the movie; you have Stephen Spielberg producing, so you can assume the effects are smack bang over the top amazing. Not only that, but you have Industrial Light & Magic working on the visual effects (and if you don't already know, that's a George Lucas company - of Star Wars fame), which just means you have some of the best effects people working their magic here. And it shows; the transformations are just SPECTACULAR. You jaw drops watching an F22 flying at top speed and transforming to a full-size robot as it crash-lands on the ground causing a shock wave to go through all the surround buildings.


See these pictures? Now imagine them moving; VERY quickly and smoothly...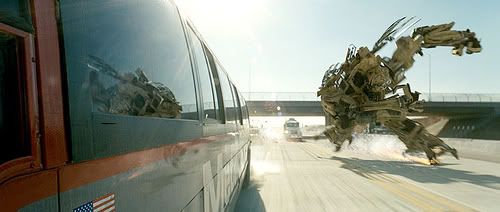 Besides that, the cars, trucks, etc all look amazing; very detailed and actually pretty colorful too, making for a very fun movie to watch. There are a number of funny moments - so when you're not being loudly grateftul for the visual effects, you're sitting there laughing.
Bad points? Well, the plot and some of the narrative aren't exactly Oscar material; but then again that's expected from all movies following a similar fashion - Independance Day, Armaggedon, etc.. They all follow the same storyline of the Earth being under attack, everything seems bleak and suddenly the heros overcome and win the day. And there's the obvious love story that has to be thrown in there for good measure. Hot chick too. Story moves a little too fast and the acting isn't super amazing, but that's overshadowed by the humor and those darn-good graphics. And anyway, you're not really going in for the storyline if you're watching a movie about superhuman transforming robots taking over the earth, are you?
Oh, and another thing. Qatar isn't an empty desert. Get your facts straight!
One thing I missed back in the cartoons, was that every time the Transformers changed shape there was a sort of whooshing sound; that was a signature Transformers cartoon sound, i'm sort of dissapointed they didn't incorporate that into the movie. But I guess that's just me.
Overall, a really good fun movie, that lives up to the cartoon; you
will
come out smiling.
Rating 9/10