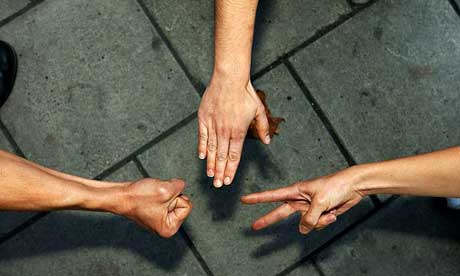 I've always wondered about Rock, Paper, Scissors; if you don't already know it, it's a game we used to play as kids; two players shake their fists in the air then form a shape; closed fist = rock, open palm = paper, and extending two fingers = scissors.
Depending on which you choose, you could lose or win: rock beats scissors (because you can supposedly break the scissors with the rock), scissors beat paper (because you can supposedly cut the paper with scissors), and paper beats rock (because supposedly, erm, not sure why). Anyhow, through the years, i've always wondered how paper beats rock, and it seems I wasn't the only one. I just found this online, someone seems pretty worked out about it (a reasonable level of profanity follows, so proceed with caution) :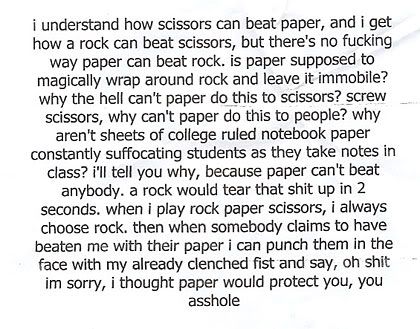 Aha. So definitely rock for me next time we play this.