What have we come to? Seriously, what has happened to our little island?

I've witnessed hotels get put out of business due to some stupid rules placed overnight by total blockheads at one of our ministries. I've seen the ridiculousness from our MP's over everything from plastic models in store windows, to trying to ban pork sales. I've even laughed at the concept of the authorities trying to block the internet (which can't be blocked).

I've seen a lot of rubbish come out of idiots in high places, who are so out of touch with reality that it's ridiculous. But what happened last night, was just.. Wow...

Preparations for the past month were ongoing for the biggest rock concert to ever hit Bahrain; Rage to the Extreme. Bands from all over the country, as well as bands from Saudi, UAE and Egypt would all come down for a full day of rock and metal music, and a competition to choose the top regional band. A full 10 hours of rock music, from 4pm-2am; definitely going to be a great one. The venue was booked, the bands arrived, the crowd arrived and everything was going PERFECTLY..

Until a few hours into the event, the CID decide to walk in and stop everything. Why?

Wait for it...

...


...


...


Over a t-shirt.

Yep. The police decided to come in and arrest a member of a band that just got up on stage, because he was wearing a t-shirt with a cartoon picture of the devil on it, and a quote saying "God's Busy, Can I Help You?"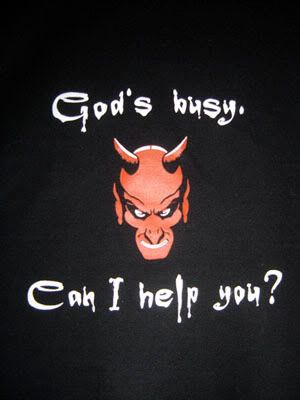 And of course, during the course of arresting him, since everyone else was wearing black, the police assume the concert is a satanic ritual and decide to close it down, and tell everyone to wear their t-shirts inside out (to cover all 'satanic' images).
A t-shirt guys? You closed down a whole rock concert, one that brought people from all over the gulf to one place, to do something that hasn't been done before in this region, over a t-shirt? And I mean i'd be more inclined to consider this if it was actually offensive; this t-shirt was supposed to be funny, but I don't get how a bunch of uneducated idiot CID/Policemen who can't even speak English properly are supposed to understand this or how to even begin explaining it to them:
"Helloooo, make funny joke, god busy, me can help you? No Broblem only making funny. Haha? NO? NO BITCHES DON'T YOU F**ING GET IT!?"
And then the authorities keep trying to portray Bahrain as '
the destination
' for business, innovation, etc. Yeah, that's not happening. Not until we wipe out half of the people in charge and replace them with people who know the difference between the letter P and letter B.
My head hurts. I apologize to anyone and everyone who came to enjoy a day of music and was turned away. I especially apologize to those who came all the way from UAE, Saudi and Egypt. I apologize on behalf of Bahrain; this country is sooo going down the drain guys. Time to abandon ship.