Looking for some some office space around Manama, one of the options was the Financial Harbor; quite a feat of engineering and design, the place was very reminiscent of some of the old cartoons and movies I used to watch years ago that portrayed the future. Narrow corridors, dimly lit, huge glass panes viewing an outside world that you can't access (mainly due to the poisonous atmosphere caused by years of pollution and nuclear testing). Think a mixture of the Jetsons, Total Recall, Minority Report, and a few other futuristic movies;


Look at that lighting up on the ceiling, isn't that just the least reminiscent of some sort of alien architecture? Just walking around in these dark, semi-empty tight corridors...
More narrow hanging alleyways, fully made of glass, giving you space to see the outside world, that you can't step into... (because of the toxic atmosphere, of course). Meanwhile, huge machines build self-sustained communities in large buildings, to secure the future of humankind...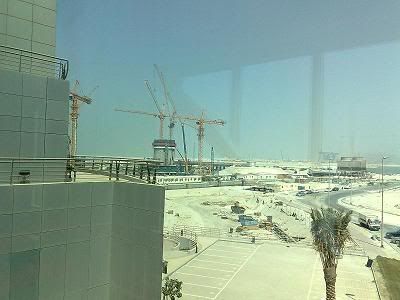 More alien architecture... Narrow, dark corridors, you can almost hear the "Twilight Zone" music playing in the background... And it probably would not have looked out of place to see an alien walking by, or a man with a huge round glass helmet on his head..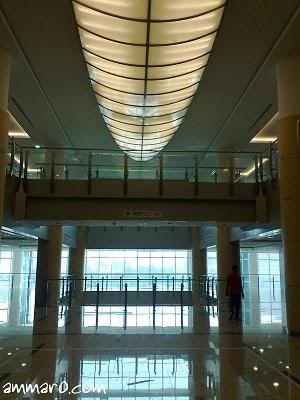 There were a hell of a lot of lifts and escalators to get people from one place to another...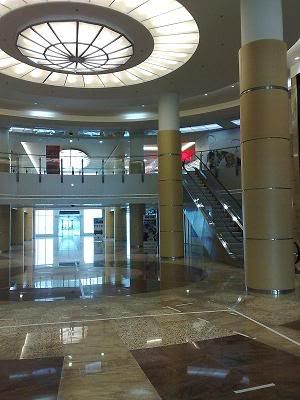 All dark, metallic, is this what the future looks like? So separated from the outside world through thick plates of glass; scary stuff... It was one hell of a relief to leave and see the real world again!
Driving on towards Manama souq, we stepped out of the future, and about 30 years into the past! More on this in my next post, tommorow...