A quick visit to Geant/Bahrain Mall today prompted a bit of thought. Driving through the massive parking lot, something felt different, looked different. Nothing had been changed or moved, nothing added. But the place felt, empty: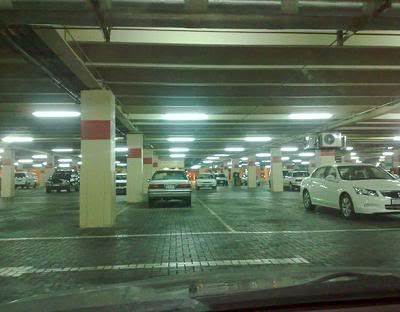 Can you see it? This was a regular weekday night, and the parking rows by the main entrance were
free
. To be perfectly honest, since it's opening I don't remember a single day where the parking looked this empty; sure, there were the quiet days, but even then the rows closest to the door were busy.
The reason is pretty apparent; with the opening of City Center Mall, which offers everything from multiple food courts, all the brands you can think of, hypermarket, and everything else in between all packaged nicely in a huge shopping mall, the surrounding malls definitely take a hit. Bahrain Mall wasn't the only casualty; Seef Mall is obviously suffering with a few shops closures (that transferred to City Center) and reduced traffic even on weekends. So has Dana Mall. So has A'ali Mall. And so has the general retail industry in Bahrain.
So you would assume that, to have an actual thriving business, you should open up in City Center, correct?
Seems the answer to that is also negative. A quick trip to City Center verifies that the mall is so big that, even on a busy day, the place still isn't very busy. The number of customers in each mall has been spread so thin that you start to wonder about the losses some of these retailers are starting to face; especially with the over-inflated prices they pay for store rental.
Between 2005-2007, the population of Bahrain grew by almost 25% (most of which seemed to be happening under the table), sustaining all sorts of growth; growth in real estate, land prices, new retailers, etc. However, with the discovery of this last year, cases were opened into why this was allowed to happen without transparency and regulation, and this has caused the ridiculous boom in Bahrain's population growth to stop.
However, one thing doesn't stop; the continued opening of new retail shops, continued building of towers, business offices, and so on. But without the growth in population to sustain it.
Are we looking at the makings of another market crash? This time one that isn't affected by the outside forces of the US financial meltdown, but rather one that was inspired by our own naivety? Factor into that the slowly approaching woes of a global market depression, and it seems that we're heading for quite a bit of a rough ride.
Fasten your seat-belts.