Shopping is a regular activity for most of us; you go to a store, shop, market, or wherever, hand over your hard-earned cash, and get something in return. Simple. Now assuming you pay for something and all, it becomes immediately yours, correct? Thus, you should be able to enjoy the benefits of whatever you purchased straight after buying it;

Examples:

1- You buy a jacket, you can wear it straight away.

2- You buy a mobile phone, you put your SIM card in and use it straight away (assuming it's charged. If it isn't you plug in the accompanying charger and use it straight away).

3- You buy a banana, and you can eat it straight away.

4- etc.
However, there are some electronics and gadget retailers who obviously think that shouldn't be the case. Why should the consumer have it easy, right? Why shouldn't they pay for their product, then actually put in a bit of effort to have to use it? Wouldn't they appreciate the product more after working to get to it?
Case in point; there are a number of products out there being sold in almost impossible-to-open-packs. I'm sure you've come across them sometime or the other:
Yes; these ridiculous, hard plastic, industrially sealed shut packages are pretty much impossible to open with plain hands. Now me, being the fan of gadget and electronics, come across these quite a lot; flash drives, card readers, etc etc etc etc.... And I don't think i've ever gotten into a situation where I could just 'enjoy' my product there and then. Sure, I bought it, and I had it in hand, and I could see it clearly in front of my eyes, but somehow it was there behind an invisible forcefield of evil. Bluh.
Yesterday I managed to buy TWO items sitting in their evil packaging. I wanted to use the flash drive straight away to copy some files off my friends laptop, so I tried to open it with my bare hands. Of course, it took a good 10 minutes of strangling, twisting and trying anything to just manage to get the tip of the package open...
Of course, during this process I was covered in scratches and looked like I had just gotten in a bit of a row with an angry cat. Seriously? Is it really necessary to make it this difficult? Anyway, it wasn't about trying to get the flash drive out as much as it had become a personal vendetta against the package manufacturers. I had to rip this little @#$%&* open! It took me another 3 or 4 minutes from there to rip the rest of the thing up...
It was a downhill process from there. Total time, approx 14 minutes.
Although i'm totally against the idea of having to use scissors to open your new presents (after all, the awkwardness of opening the first package, mixed in with sharp objects doesn't sound like a great idea):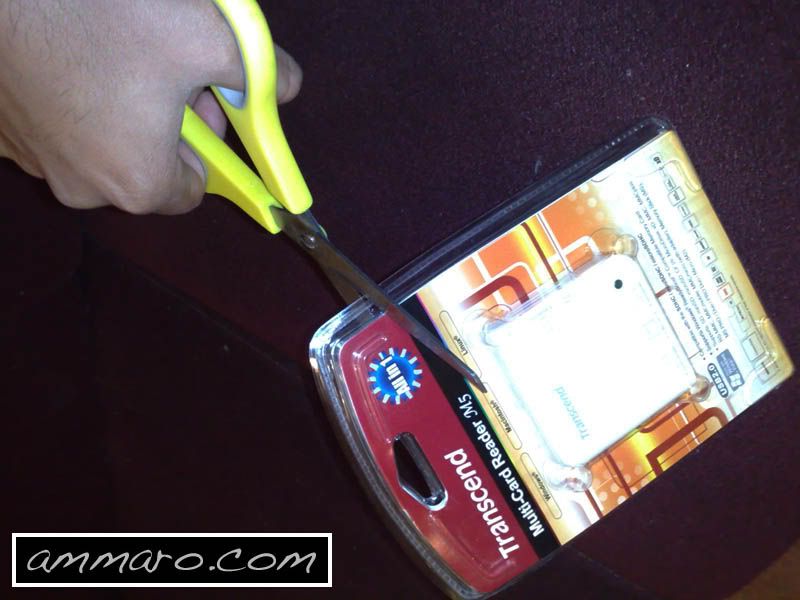 Total time? About 20 seconds. Plus I managed to cut the warranty card.
I don't get this obsession with hard-to-open packs. What's the deal? Are they cheap to produce? Or are the manufacturers worried about theft? Or what is it?! PLEASE make us some easy to use packaging that doesn't end up giving the consumer multiple injuries trying to open it, and doesn't need sharp objects used!