I guess after a while of growing up, we all get caught up in a world of business, stress, responsibility, tasks and so much more. It all becomes a lot and it sort of dulls us down from the (hopefully) exciting people we were back in college, school, or whatever we were previously. We work more, put our mind into achieving what we need to achieve, not doing what we want.

Not me, not today.

We walked around City Center Mall sort of bored; my friend was looking for something specific to buy - work related obviously - and we managed to stumble upon this huge toy shop:


Not that we usually go inside most toy shops we see, but this one had a really cool full-size dragon in the window! Yup, a huge mutha, twice the size of most people; anyhow, that got us inside the shop, and we started walking around this childrens' wonderland: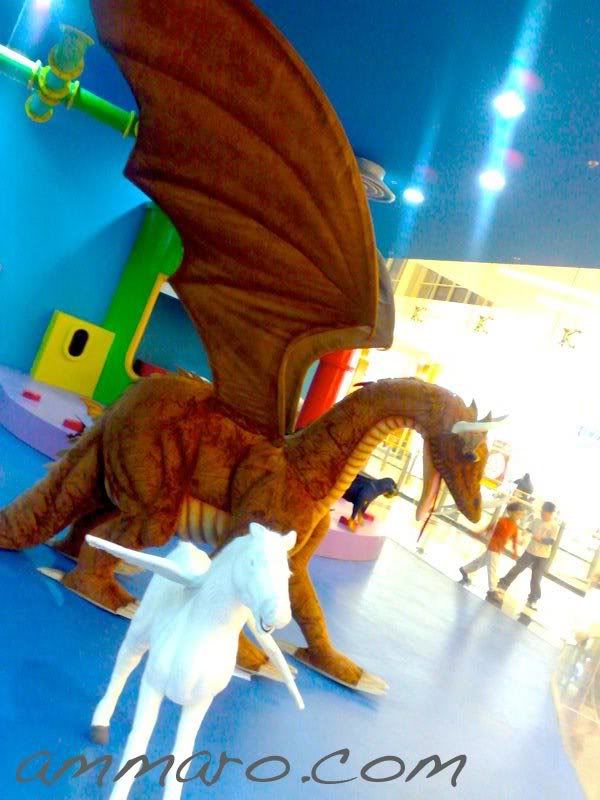 These guys had everything; stuffed dolls, robots, flying remote-controlled helicopters, science-experiment-game-type-thingies, board games, and a lot more.. Sure beats what we had when we were kids; I remember we used to get things like those bags of plastic green soldiers; what a load of crap those were, some couldn't even stand straight and kept falling. But yeah, today's kids have got it all sorted out huh?
Looking through all these toys, we figured, yeah, it would be nice to be a child in today's world. On our way out, we passed by the model section; models of cars, boats and planes, and I stopped and looked at them.. Wow, I remember putting these things together back when I was a kid, and, damn; the more I looked, the more I wanted one! The guys told me I was being silly, but I wouldn't leave the store without one (sort of reminds me of when I was younger and my mom would try to drag me out of random toy shops).
I picked up a model plane, and while contemplating whether this thing might be a little too simple to hold any interest for me, I saw the label on the side. Number 4, it said. A key on the back explained what 4 meant, on a scale of 1-5:
1- Easy, snap on kits not requiring any glue or paint.
2 - Simple kits with up to 30 parts to glue and paint.
3- More demanding models with up to 100 parts.
4- Kits with up to 150 parts for more experienced modellers
5- Difficult models with over 150 parts requiring a very high level of skill
paid, and went on my merry way, gleeful in the thought that I got myself a toy!
Cool! I rushed to the counter, paid, and made my way home gleeful in the knowledge that I had just bought myself a toy! Lovely, I feel all child-like again!
I got home, ripped open the box, and figured that I was faced with a hell of a task; putting together all these pieces needed a LOT of time and effort, and the 20 page instruction booklet looked like something out of a mechanical engineering graduate book. Crap. But a challenge, no? :p Looks like fun! I'll document progress over the next few days (Weeks? Months?).
If you don't see anything on this topic in the next while then just know i've already given up on it, and perhaps I should leave the toy world to the kids!