If you haven't seen The Matrix, you need to leave my site immediately. I will not tolerate people who haven't watched it going anywhere near my site.

Yes, that means YOU. Leave now. Don't ever come back.


...


...



Okay, now that we've gotten rid of THAT lot, let's talk serious business. We are now witnessing the beginning of the end; robots that can communicate with each other, work together to produce larger machines, and capable of managing their own hardware and software. They can even fix themselves if hurt.



Sounds familiar? Oh, and how about when they ask the professor whether he thinks there's any risk that the robots could take over?


"No, I dont think there's any risk at all of that."
Ahh, denial. Beautiful denial. I bet you'll remember this phrase when the robots have got you hanging from your feet and are slowly disemboweling you. Don't you ever watch movies?!?!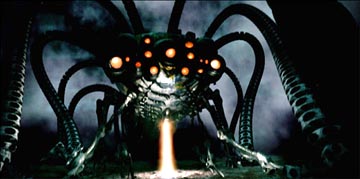 Robotos that work together, create their own programs, think, and heal themselves. Add the intelligence of Google into the mix, and you've got the Terminator right there. Uh oh; beginning of the end guys, your days are numbered.
Welcome to the Matrix.