Total Attitude.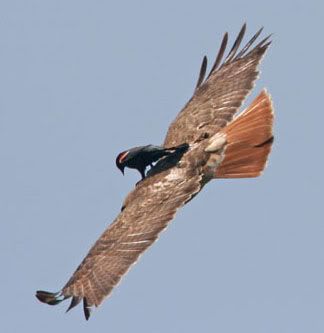 If you didn't notice anything special about the photo, look again.. Focus.
Yup, that's a Blackbird hitching a ride, or
surfing
, on the back of a Red-Tailed Hawk. Seems this sort of behavior is actually pretty common amongst those cheeky Blackbirds (who seem to have quite big balls for small birds).
"Yup, that's me, tiny Blackbird. Check me out; I've made this big badass hawk my bitch. I rule."
Yes you do, Blackbird.
Very cool.
Source