Back in the day, general vocabulary was more innocent. Swearing wasn't used as frequently, and TV/Radio shows were hesitant to put any sort of cussing in them.

Not so nowadays; it seems every third word we hear is a swearword, whether we're watching a TV show, walking around in a shopping mall, strolling next to a nursery (what?).

But seriously, vocabulary has changed. Things that sounded innocent back in the day, now mean something else. A great example is the Flinstones theme song; "we'll have a gay ol' time". You can't say that out loud in a public space today without getting a few raised eyebrows, looks of hatred, and a protester or two come up to you.

Another great example is the comic industry; what seemed innocent back then is apparently not nowadays. Here's a Batman comic from back in the 60's, and the Joker is obviously not very pleased with his performance. Enjoy: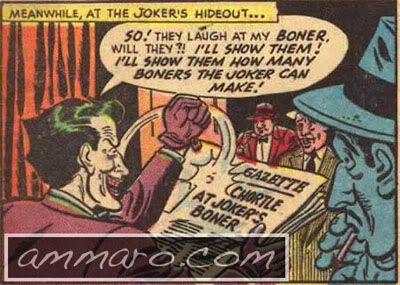 Seriously though, what's a boner?